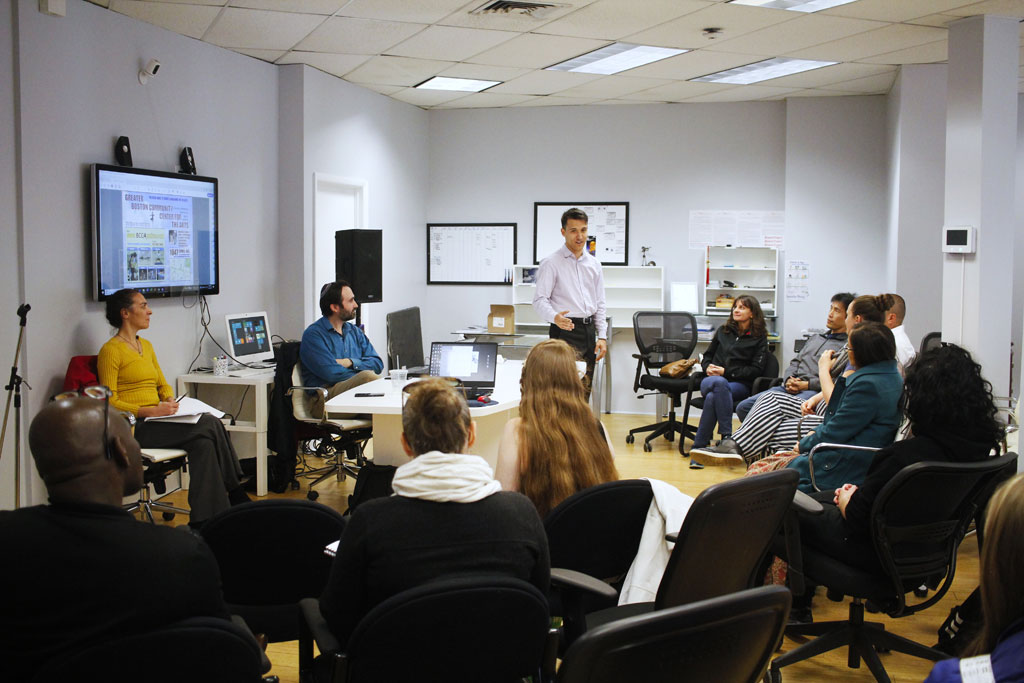 The Cambridge Community Center for the Arts, a nonprofit for creating and managing arts facilities, hosted an open house Sunday at an upcoming arts space near Inman Square that it explained should be only the first of many.
The business model is based on sharing spaces and the cost of utilities with existing businesses. As it grows, the group expects to offer places for classes, rehearsals, meetings, workshops, events and performances, shared offices and artists' studios.
To get underway in its first location, 2,000 square feet shared with AdoEma Realty at 1036 Cambridge St., Wellington-Harrington, the group still has to make the bathroom handicapped-accessible, put up a soundproof partition to divide workers from the artists' area, and add a door on the side of the building. There is no launch date set, but founders and directors Dan Marshall and Callie Chapman told the roughly dozen artists gathered Sunday that they want to fast-track the opening and provide space that has become all the more crucial since the closing of Green Street Studios in Central Square.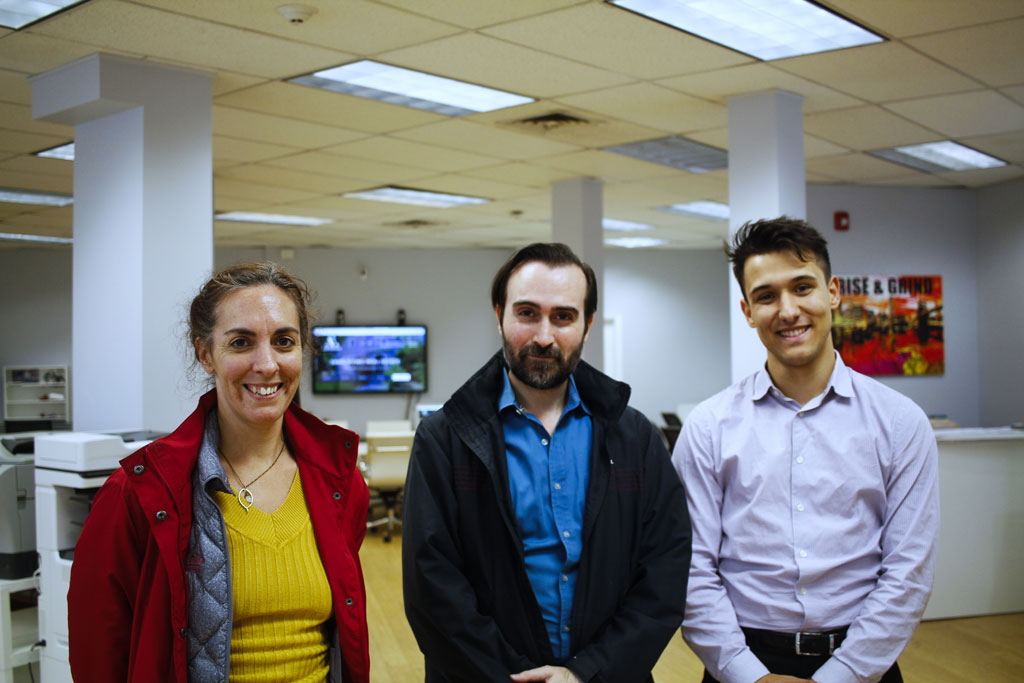 "I think it's going to move really fast, especially because of the main need that Green Street Studios left. So many people had their last class in October – we want to keep those people. If you make them wait until January, they are not going to stay," said Chapman, who runs Studio@550 in Central Square. The group still needs to run sound and floor tests to ensure the shared space works, Marshall said.
The city's Cambridge Arts agency is keeping an eye on the project, executive director Jason Weeks said on Wednesday, and has connected Marshall with the Community Development Department and other municipal departments to see if they can be involved. "We're all just beginning to explore this together," Weeks said. "I appreciate his willingness to jump in" with expertise and a nonprofit status retained from work in Brookline in 2003-05.
Artist anticipation
One artist looking forward to the launch was Jessica Liggero, who said she has not been able to find space for her class – a merging of Soca dancing and boxing called "Box n' Misbehave" – since every available space got snatched up when Green Street closed.
"It makes sense to share space. It is smart," Liggero said.
"When we lose spaces and we can't continue to develop our craft, there is a part of the city that dies. And I'm just sad that is happening in Cambridge," Liggero said. "We need to link up and brainstorm ideas to see how we can create solutions for people to stay together and keep growing and developing through these tougher times."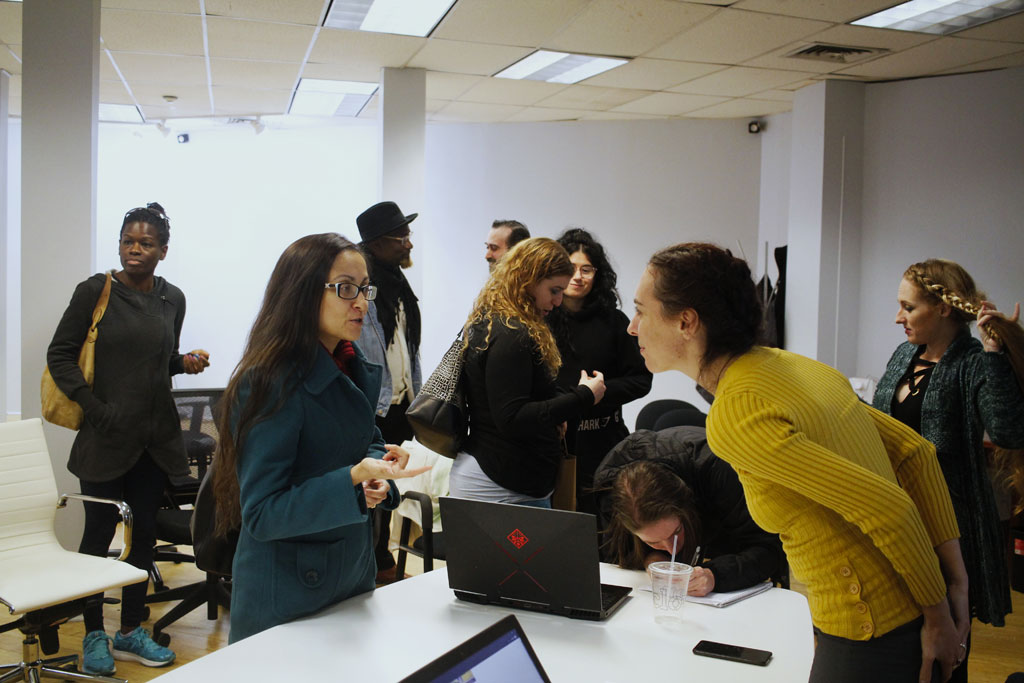 The concept also found a welcoming audience in Carl Alleyne, cofounder of the Beantown Lockers dance crew and owner of the Boston Mobile Dance Studio, who attended Sunday because he wants to be part of the solution to housing arts in Cambridge. "The more locations, the better," he said. "If we lose the ability to do our art, that affects everyone."
Also present was Sumati Ram-Mohan, a performer of Indian classical dance who was displaced when Green Street Studios shut down Oct. 27. She had only four days' warning before her last performance at Green Street. "I was hoping to announce my next event as part of my series, which was going to happen on Dec. 7. I've been looking for places, but I still have not found a venue," Ram-Mohan said.
Chapman confirmed that the space crunch makes CCCA and its AdoEma location vital. "When Green Street Studios closed, I got completely booked at Studio@550. It pushed out a lot of other things, leaving absolutely no space for any creative, independent research to actually happen," Chapman said. "Artists currently don't have space to work on their projects … everything is eaten up by consistent classes. I'm hoping this space can fill some of that gap."
Business plan
To fund the arts initiative, the center will offer membership plans to the public and have customized contracts for each artist working with them.
The agreement with AdoEma establishes that the center starts paying rent only when it reaches a 25 percent profit after covering expenses.
"It will make our organization stable in the eyes of the banks and the foundations. It will give us a very good rooting. By giving us that soft start, we will be able to carry the rent," Marshall said.
Suad Kantarevic, chief executive of AdoEma, believes sharing space with the Cambridge Community Center for the Arts is an opportunity to improve the community.
"The first benefit will be having people coming here to improve their lives and enjoy learning from the artists – and the other benefit will be that with a lot of people coming here, it will potentially increase our business. But even if that doesn't happen, it is still in my interest to help the community and those who need it the most," Kantarevic said.
The Cambridge Community Center for the Arts is already looking for more locations in which to operate its shared-space model.
"There is a way to activate your space," Marshall said he would tell business owners. "If you have a restaurant or a bar, a real estate office, we can turn that into a multipurpose space that revitalizes and creates business in the community."